Free Event – Building a profitable trade business in 2022
---
Posted on January 21, 2022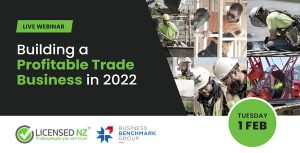 Tradies – Welcome to 2022! 
We hope the new year has started well for you , your families and businesses.
Tradies are you tired of being pulled from pillar to post, working endlessly but not being able to break past the barriers you need to grow your client base, bring in more revenue, and take steps to live life your way?
We've organised an event exclusively for our customers, and we wanted to invite you because we know you'll find it helpful.
We've invited one of Australia's top business coaches in the trades and construction industry, Stefan Kazakis, to share his advice and expertise.
Few speakers are better qualified to provide on the spot learnings you can take away and implement easily and immediately.
Stefan will share with you:
✔️ How to get paid on time by your customers so that you have more cash in your bank at the end of the month
✔️ How to properly manage your time to maximise efficiency and results, giving you time management strategies to do all the things you started your business for in the first place.
✔️ How to attract, and retain exceptional employees, who will deliver outstanding customer service to your customers.
✔️ How to turn your marketing into an investment instead of an expense, to build a predictable and consistent flow of qualified leads.
Stefan will also share the techniques and tools to:
✔️ Double your cash flow
✔️ Triple your profit
✔️ 10x the valuation of your business within the next 3-5 years
Register your interest at : https://businessbenchmarkgroup.com.au/licensednz-event/
If you are not yet a member of Licensed.NZ and are a professional tradesperson, you can signup at https://www.licensed.nz/CreateAccount.php
---