Top tips to prepare for tradies arrival
---
Posted on February 13, 2020
Every person will have tips for you if they hear you are doing work on your home. Here are some tips from an AWCI registered  professional plasterer for when you are preparing for tradies to begin renovating.
If your house or building has old wallpaper on it, you may be considering removing it. There are plenty of options advertised with all sorts of gimmicks for removing wallpaper. The reports we hear of these and from experience are mixed.
You can always ask your plasterer if they will strip the paper for you, but they may charge a lot to do that. In order to save you money, we have brought you a tip from a professional plasterer and painter.
Take a small steel blade, 3 or 4 inches wide is enough. Find the edge of your wallpaper and run the blade under a bit of it. Once there is enough loose wallpaper to hold onto, pull it and remove the top layer of your wallpaper.
When you have done this for the entire room, you will see the fine backing paper still stuck with glue to the wall.
At this point you will need a small pump up garden sprayer, boiling hot water and a cleaning detergent. Put a capful of the detergent in the sprayer and fill up with boiling water.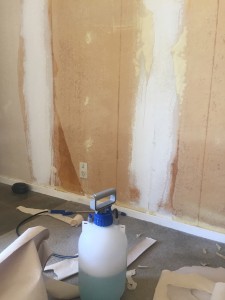 Spray the walls that have the backing paper on quite well so they are thoroughly soaked. Wait 5 minutes for the glue to soften, then use the blade to loosen the edge. Pull the backing paper. If it comes off in reasonable sized strips or sheets then continue. Otherwise spray it again and repeat the process.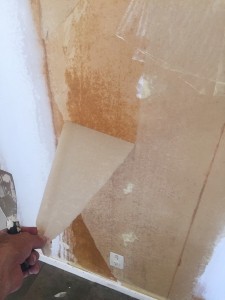 Once all the loose paper is gone, the walls will be ready for the plasterer to work.
NOTE : This method generally works well, but some wallpapers may not come off or may need extra effort to remove due to the glue used. You may be told by the plasterer to seal the walls with a pigmented sealer before plastering, this is only useful if the plaster being used is a powdered, chemical setting plaster. Pre-mixed All purpose compound plasters do not need this to be done before plastering.
We will cover the types of plasters and their advantages in depth in another article.
To find professional tradies for your jobs, download our App at the links below or search our main site Licensed NZ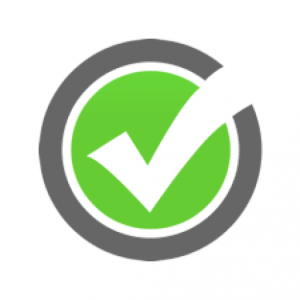 ---