New Partners : NZ Concrete Contractors Association
---
Posted on July 17, 2018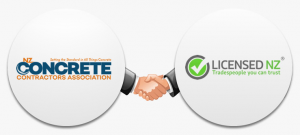 LicensedNZ is pleased to announce new partners – the New Zealand Concrete Contractors Association.
The New Zealand Concrete Contractors Association provides its members with leadership, advocacy, professional development, promotion and industry partnering.
The requirements to be a Member are a high standard of knowledge and practical experience which must be demonstrable, both in terms of workmanship and business acumen.  A NZ Concrete Contractors Association Member must abide by the Code of Ethics of the Association and be professional in all aspects of their business conduct.
By setting a high standard for membership, those who employ a member of the NZ Concrete Contractors Assocation to carry out their work can be assured of a high standard of workmanship in all aspects of their dealings from quotation processing through to back-up service.
We encourage you to find NZCCA members near you to employ on your next project requiring concrete work.
New Zealand Concrete Contractors Association
---