New Partners: AWCI!
---
Posted on March 30, 2016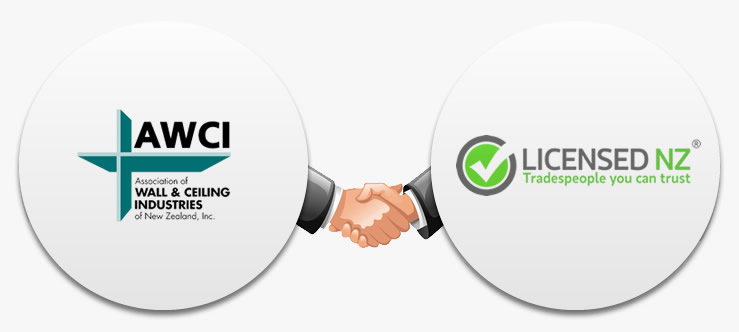 We're excited to have The Association of Wall and Ceiling Industries of New Zealand, Inc (AWCI) as a partner with Licensed NZ!
AWCI is a group of building industry contractors, manufacturers and suppliers. We aim to deliver the highest quality services and products for our customers. Our members are experts in interior wall, plasterboard, partitions, fibrous plaster, ceiling systems and related products.
AWCI's role is to keep members abreast of industry developments, represent members on legislative change, building code changes, industry standards, site safe, training requirements and technology advances in products and applications.
An AWCI Certified Business Member offers you a proven track record in business and trade expertise to provide you with:
Peace of mind
Quality workmanship
Certified Wall & Ceiling tradescraft
The backing and technical support of the AWCI and leading building industry manufacturers
AWCI members must possess vetted specialist skills offering a range of interior wall and ceiling trade practices. AWCI Certified Business members are qualified or peer reviewed to strict criteria to be accepted as an AWCI member.
You can check out the AWCI Trade Association Page or search for a Licensed Partitioning Installer, Plasterer, Plasterboard fixer or Suspended Ceiling Installer in your area right from their Search Page.
---